21 June 2022 - MoC Goudie Lecture - 'The Origins of British Broadcasting' by John Blackie.
5 June 2022 - SOTA on BBC-1 Countryfile on Sunday 5th June at 6:00pm. (Tnx GB2RS)
31 May 2022 - New-Style RSGB RadCom Basics is available online to all. (Click).
20-22 May 2022 - DAYTON HAMVENTION & USAF MUSEUM - Brian GM8BJF was there! 
Space Shuttle at USAF Museum
Click for report with many photos.
18 May 2022 - Transatlantic Tests Centenary
Click to view RSGB YouTube video (12 mins).
14 May 2022 - MoC Goudie Lecture 'Development of the Cavity Magnetron' by Prof. Peter Grant.
8 May 2022 - 11:00-16:00 UTC+01:00 - RSGB May Microwave Contest at Lauder Common. GM3HAM/P was operated on 432MHz by Norrie GM1CNH & Peter GM4DTH. MF Rx for Aircraft NDBs. Organizer: Norrie GM1CNH.
4th May - 24 Sept 2022 - MUSEUM OF COMMUNICATION 2022 Exhibition: Celebrating 100 Years of Broadcasting
Weds & Sats, 11:00-16:00h. Entrance free. Donations welcomed.
Final preparations. Courtesy MoC.
 ============================================
26 Apr 2022 - CONGRATULATIONS - LRS member Colin Murray GM4EAU has won the RSGB CONSTRUCTORS' CONTEST 2022 (Software Section) with his WATT software (WSPR Analysis & Transfer Tool). There were 30 entries in the Constructors' Contest. Click for full LRS website article, including RSGB certificate. Colin talked on this subject to the LRS on 10th Nov 2021 - Ciick. At the LRS AGM on 8th June 2022 it was proposed that Colin be awarded the LRS Osprey Trophy for this achievement.
24 Apr 2022 - Norbreck (Blackpool) Rally
Details: https://narsa.org.uk/
2022-04-20 - Wanted - R1155 Receiver, any condition, for restoration project. Ian Sheffield GM3VEI (Dunbar). Via GM3PSP.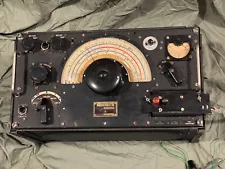 9 Apr 2022 - MOC Goudie lecture "Pirates!" by James Gentles GM4WZP (LRS). 
9 Apr 2022 - GMDX Convention, King Robert Hotel, Bannockburn. Face-to-face, not Zoom. Hope to video-record talks.
25 Mar 2022 - Dumped Russian unit in Ukraine may hold military secrets re jamming drones & satellites and tracking NATO military aircraft up to 180 miles.
Photo courtesy Times.    UA1XYZ/M ?
21 Mar 2022 - University of Edinburgh Electronics & Computer Science student, Jiaxun Yang GM3HSO / BH5HSO is trying to form an informal radio club. (RadCom 2022/4, p.13).
Jiaxun is also a member of the joint University of Edinburgh / Edinburgh Napier University Asteria student satellite development group which is planning to build an amateur radio satellite, Oracle-1 and have it launched by December 2023. (Click). 
10 Mar 2022 - MOC-2022 Exhibition - Celebrating 100 Years of Broadcasting - in preparation.
Please see below for an important message for John Blackie, who is co-ordinating this year's Exhibition preparation. Please respond directly to John at
This email address is being protected from spambots. You need JavaScript enabled to view it.
 if you can help.
NEW EXHIBITION FOR 2022 CELEBRATING 100 YEARS OF BROADCASTING
After the two-year enforced closure of the Burntisland based MOC museum, we are  planning to open a new free public exhibition from May.  The exhibition will mark an important anniversary in the history of radio and TV broadcasting. 
In 2022, British broadcasting has entered its centenary year, marking both 100 years since the first experimental scheduled broadcasts were made in the UK and the start of the BBC - the world's oldest national broadcaster. It will also register our  presence back in the community and  town etc.
The Museum's 2022 exhibition will be in the Museum at 131 High Street, Burntisland (KY3 9AA). The exhibition will feature a 100 year Broadcasting timeline running from 1922 to 2022 highlighting famous radio and TV programmes and events illustrated by items from our collection- crystal set radios, valve wirelesses to TV cameras, recalling the great moments in broadcasting history, events of the day and other memorabilia. Hopefully we can set up a broadcast demonstration for young people to enjoy and illustrate some of the technical aspects of the history of broadcasting. We also want to show how broadcasting has evolved into today's world of on-line streaming, smart-phones and HDTV.  There will be an additional exhibit covering Royal Broadcasting in this Queens Platinum Jubilee year.
Everyone will be welcome to come in to see the exhibition -normally on Wednesdays and Saturdays over May to September. There will be no charge for entrance to the exhibition. The museum is a registered charity and run only by volunteers.
We need volunteers to take part in a rota to cover the opening periods .
Please pass on your details to me if you a happy to help during the opening, May to Sept.
If anyone would like more information please contact myself, John Blackie by email to This email address is being protected from spambots. You need JavaScript enabled to view it.
.............................................................................................................................................
01 Mar 2022 - Mni tnx to Colin Murray GM4EAU who is now routinely arranging Zoom availability of LRS meetings, and recordings.
23 Feb 2022 - There will be NO ASRA (Glasgow) Rally in 2022.
22 Feb 2022 - Barnton Secret Bunker museum approved. (No opening date yet).
11 Feb 2022 - The Story of EZNEC Antenna Modelling Software - Roy Lewallen W7EL, courtesy WARC. Click for recording. 
09 Feb 2022 - SpaceX - geomagnetic storm just doomed 40 Starlink internet satellites.